Ozark Native Plants
Ethically Propagated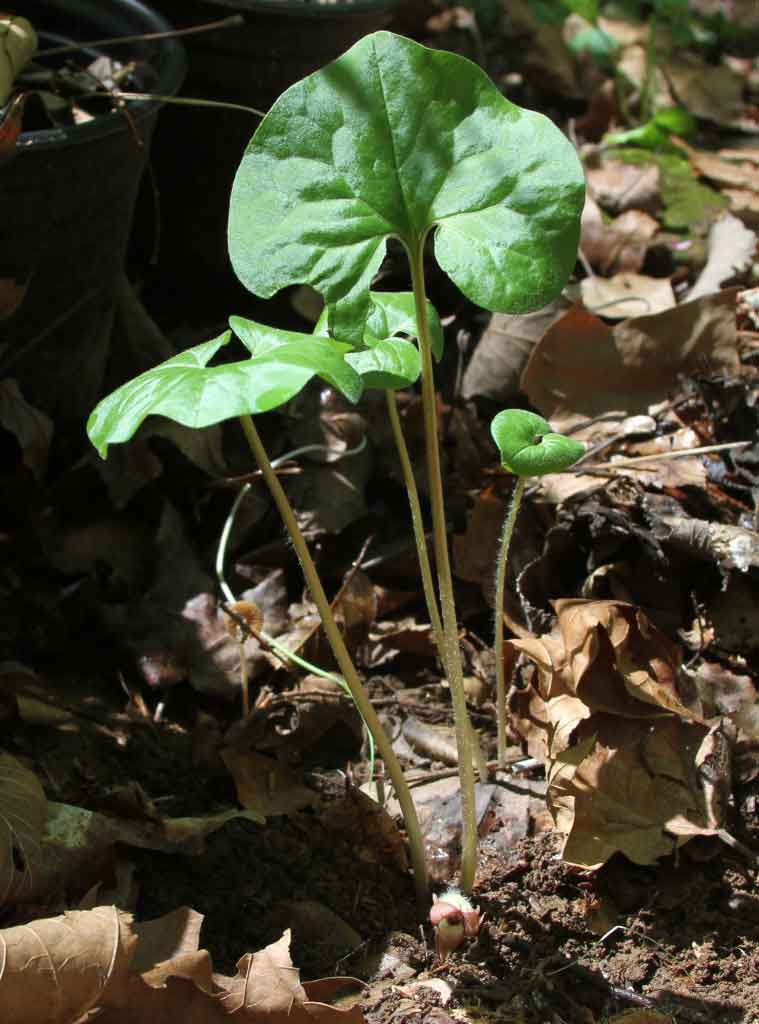 Wild Ozark™ Nursery specializes in American ginseng and companion plants for ginseng habitat restoration.
Location
Madison county, Arkansas. Most plants can be shipped bare root in fall. Plants in pots are available for pick up May through August. We're six miles down a dirt road off of Hwy 74 near Kingston, AR. Address and directions are given after appointments are made.
Find out More
To stay current with what I'm bringing to market or have on-hand, just send me an email.
We make deliveries to the Kingston town square for orders over $75, or you can drive out to nursery by appointment. Email for more information to
Seed storing tip: I have learned that you can't keep the ginseng seeds in the refrigerator so long or else they will go dormant. It's best to keep them in layers of sand outside in a cool and sheltered place if you can't plant them right away. The seeds I have aren't dead, they just might not sprout this year. (Thanks to Dennis at Ozark Mountain Ginseng for this information!) Next year they should all sprout on schedule. I'll have some seedlings to sell at market this year, just not so many as I'd planned for.
Here's what I have on hand for spring potted plants 2022. These have to be picked up at the nursery. In fall, if there's any left, or if you pay to reserve them now, I will be able to ship them bare root (US addresses only, except California). Many of these plants require more than one year to germinate seeds and we're a very small operation. If you know you'd like something, let me know in advance and I'll make a point to start your divisions or seeds this year.
American ginseng seedlings 200
Bloodroot 3, more available for bare root in fall
Giant Solomon's Seal 0, may have some for bare root in fall
Spikenard seedlings in pots 0
Spicebush 2
PawPaw saplings 0
Doll's Eyes 10 seedlings
Black Cohosh 0
Blue Cohosh 0
All-heal (Prunella vulgaris) 0
Wild Hydrangea 3
Grape/Rattlesnake fern 0
Maidenhair ferns 0
Jack-in-the-Pulpit 3
Echinacea 5
Beebalm 5
Devil's Walking Stick 0
Wild Strawberry 0
Witch hazel 1
Dogwood 1
Redbud 0
Crested iris 1
Toothwort 1
Wild ginger 3
Maidenhair fern 0
Christmas fern 3
Woodland fern 2
Trillium 1
Virginia snakeroot 0
I'll update this list periodically as I sell out or have new offerings. Shipping will not be available until September 2022.
Where do we get the plants?
All of our plants are propagated from plants at Wild Ozark (root divisions or seeds) or from purchased seeds (it is illegal to harvest wild ginseng seeds for propagation). Those plants that live here and make viable seeds are propagated by seeds, and we always leave seeds/berries on the plants so the natural colony can reseed. Some plants, like goldenseal, black and blue cohosh, wild ginger, and bloodroot, do exceptionally well with divisions. We would never threaten the survival of any of our plants by over harvesting for the sake of selling plants. Because of this, and because this is a one-woman, one man operation, our supplies will be limited.
Madison Woods is an artist and ginseng habitat steward from northwest Arkansas. She grows wild-simulated ginseng and Wild Ozark is the only certified ginseng nursery in Arkansas. She sells potted seedlings and companion plants in spring to local customers, and ships bare-root plants in fall to customers farther afield. Follow her on Twitter, Instagram or email with questions.